Water conservation at home is pretty easy. All it takes is making mindful choices and knowing how much water you use daily, in and around the house. You can use buckets and mugs for chores instead of using running water that you can hardly keep track of.
One of the most effective ways to practise mindful gardening is to use water timers, often known as irrigation timers or sprinkler timers. Sprinkler timers or hose timers set your fountains or water connections to sprinkle water at specified intervals. You may adjust them as per the time, temperature, and many other factors, and they will water the grass automatically to satiate its water needs.
The water timer types
The GUI YO water timer helps you water your plants up to 24 times each day. Water hose timers operate similar to egg timers in that they may be rotated to establish variable time intervals for the hose to turn on and off. It is advantageous because deep soaking your grass may not yield favourable results at times. You can utilize any of the two outlets available.
Electronic Water Timer Functions
1 in 2 outlets. / Easy dial electronic water timer.
Control knobs for easy handling
Up to 24 watering times per day
Frequency ( 1, 2, 3, 4, 6, 8, 12, 24, 48, 72 hours or 1 week))
Watering run time ( 1, 3, 5, 10, 15, 20, 30, 60, 90, 120 minutes) and manual on/off operation.
Low battery indicator use 2x1.5v alkaline battery.
Two Hours Digital Timer Functions
Totally electricity free manual and mechanic timer.
Connect to faucet, turn knob to point to target time, begin time counting down and stop watering when counted down to zero.
Time setting range: up to 120 minutes.
Simple and easy to use device while saving time and water.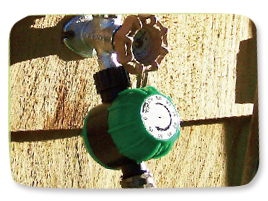 There are a variety of water timers available. Electronic water timer with a simple dial. Control knobs are provided for ease of use. The digital water timers automate regular watering activities, saving much time & expense while also lowering the environmental effect of your house. Digital timers connect to each sprinkler in the garden, enabling you to schedule irrigation from one location at the desired time.
Mechanical watering timers are a tried-and-true method of watering your lawn more effectively. Attach the faucet to the timer, turn the knob to the desired time, start the timer, and stop watering when the timer reaches zero.
A water timer is a necessary and advantageous buy. It makes watering your garden more manageable, allows you to dedicate the time savings to other gardening activities, and ensures the good health of the grass. There is a watering timer for every need; contact us today to choose one that suits your garden best.